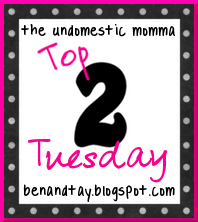 I missed Taylor's Top 2 last week, but am chiming in this week to talk about my top two favorite stores to shop at.
Number 1. Definitely J.Crew. I've got that loyalty thing going on, and I sure do love the clothes! I always check there first if I'm looking for a certain thing. They've got me covered from the basic to the fabulous!
Number 2. Target! There's pretty much no way I'd rather pass an hour or two than wandering through the aisles at Target tossing things I "need" into my basket. I went yesterday and got a couple of trays
Hopsy
mentioned, a new Essie nail polish, a thick belt for up around my waist, a really cute anchor gift sack, and gummy worms. You see how I couldn't live without any one of those things and I wouldn't have even known it if I hadn't stopped into to my neighborhood Target.