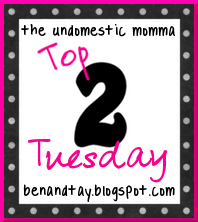 In order that these top 2 random facts about myself could truly be random, I went ahead and made a list of 20 random facts then used the random number generator to pick out two. Here's what I ended up with:
5. My childhood lovey was a Pink Panther stuffed animal named
Pinky
.
My uncle gave him to me before I was born (I think) but he only became my favorite when I lost
Pooky
my clown. He has a really weak neck and despite several "surgeries" where my mom
restuffed
it and stitched him back up, his head hangs down. My friends would shake it or throw him and I was super defensive of him. I still love
Pinky
but he says at home with my parents.
12. I don't have an
iPod
.
My first MP3 player was given to me by a good friend but it wasn't an
iPod
. It wore out and I got an
iPod
nano
but I never used it. This Fall I sold it in our garage sale. I want an iPhone but probably will never get another
iPod
.
So there you have it! If you're a new visitor from Top 2 Tuesdays please enter my
giveaway
. It ends today when I get home from school and do the "drawing." I'll announce the winner tonight! Good luck to all who entered.