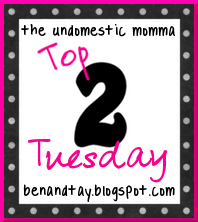 I'm more than a little excited about Taylor's Top 2 Tuesday topic today because I just so happen to consider myself quite a big name nerd, that's an
onomaphile
. I have fun putting names together in combinations, naming characters and planning future names of children. These are my top two for each gender for real future kids and they have Brian's stamp of approval. They're not final picks of course, because hello, we're
not even pregnant
, but there's a good chance these names will get some use in the future.
Girls' Names:
Our number one favorite is Helen Cecelia. My middle name is Cecelia after my grandmother and I've always loved it and wanted to pass it on. Several

years

ago (before I met Brian) I had picked out this combination because I love how elegant and strong it feels to me. It just so happens that Granny's name is Helen so it works out to be a combination of both of our grandmothers, perfect!!
Number 2 girls name is
Merrilee Claire
or
Merrilee Ruth
. Merrilee is a recent favorite of mine that I thought I had made up based on a mash up of my dad and grandfather,
Merril
, and Brian's dad and grandfather, Leo. Come to find out this name and variants were actually somewhat popular in the 40s. The middle name is undecided but St. Claire and Old Testament Ruth stand out as good namesakes in my mind.
Boys' Names:
Our top pick is William Ambrose. William is a strong, handsome classic and I love it. Doing a little research I found out there's a St. William of York and hey that's kind of cool. St. Ambrose is a great saint and doctor of the church. I also just really like the sound of the names in combination. His initials would be WAY which I'm not sure is bad or neutral.
Second is
Casey Fulton
. We like the spunk and character of Casey, and the flow of Casey Fulton, but like all our other choices have great namesake models in Fr.
Solanus
Casey and Archbishop Fulton Sheen, two wonderful American Catholic heroes, both of whom have been nominated (probably the wrong choice of words) to be considered for sainthood.
I'm limiting myself by posting only the top two of each. Just in case we have 12 kids, I have enough favorite names for them too! I'm looking forward to getting more ideas from everyone else participating this week. There's a bunch so far! Head on over to
The

Undomestic

Momma
and play along.