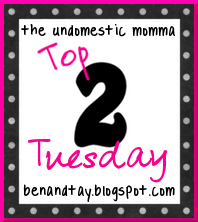 The topic this week for Top 2 Tuesdays hosted by Taylor, the
Undomestic Momma
is top two things you can't live without. The point has been made, and justifies repeating that the things we're posting today are much less significant than the things you
really
can't live without, you know food, water, shelter, love of God and family, etc. These are the things that I surely wouldn't like to live without.
1. My hot rollers.
I curl my hair every day. Like, EVERY SINGLE DAY. Since 4th grade. I love big body and bounce and it's kinda my signature style, you know? I've stuck with my hot rollers while my friends moved from curling irons to round brushes and blow driers to the Chi. I'm just loyal like that. I would be quite self-conscious without them and I choose not to be.
2. Dr Pepper
I know I drink way more Dr Pepper than is healthy, and not the diet stuff either, but I LOVE it! I shocked one of my health professors once when I admitted to drinking about 50 ounces a day in college. It's much less now, more like 20 on average. Dr Pepper beats Coke and Pepsi hands down any day and don't even bring Mr. Pibb around here, it won't be pretty.